NJ Aesthetics office is located in Newark, New Jersey. We offer the most proficient Restylane Dermal Filler treatment services at a very affordable cost. NJ Aesthetics has clients from all around New Jersey and neighboring states, New York, Connecticut, Pennsylvania, and Delaware. Our professional Physician provides our clients with the desired outcomes.
Contact our friendly staff at our Newark office for more details about the Dermal Filler treatment as well as the other treatments provided at NJ Aesthetics.
---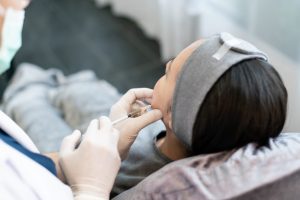 What are fillers?
In a simple language, fillers mean returning volume is equal to returning youth. The Fillers are the popular choice for getting a youthful, plump as well as smooth skin. There are dermal filling agents that are utilized for the restoration of age-related loss of volume, and it restores and plumps your lips. Our well-trained professionals offer a variety of filling agents as they have the required skills to deliver superb facial contouring. Dermal filler treatment is a cosmetic process which is designed to help disappear and diminish the looks of wrinkles, fine lines as well as other visible signs of aging.
What are Restylane dermal fillers?
Dermal fillers mean they are the small injection of gel that is composed of hyaluronic acid, which is filled with wrinkles as well as add volume to soft tissues. The Dermal Fillers are present in various parts of the face, such as around your eyes, mouth, jawline, cheek, and lip.
How do dermal fillers work?
Fillers first restore the lost volume of your plump areas as well as face, so that the deep-set lines get smoothened. Why there is a need for this to get done? Well, as a person gets older, bodies don't produce collagen as well as elastin; they are responsible for looking for a person's youthful look. Experts don't know when a person starts losing collagen and elastin, but they agree it is generally at the age of 25. Which is a pretty young age? Don't you agree? Your elastin, as well as collagen level, get declined at the rate of 2 % every year, and the body stops producing them till your late twenties.
Here are some advantages of using Facial Fillers such as Dermal Fillers
They offer fullness to one's lips and cheeks when you want to pump up the volume.
They help to smooth out the lines on one's face.
They help to make nasolabial folds that crease from nose to mouth of an individual and less noticeable too.
Why choose dermal fillers treatment?
Dermal fillers treatment is an alternative as well as an excellent way to non-surgical option — no downtime with most of the dermal facial fillers. The treatment sessions are comfortable and relaxed.
We at NJ Aesthetics offer profession and one of state of the art Aesthetic services at Newark, New Jersey location. Our Physicians are well-trained professionals, so there is minimal discomfort, and no recovery time is required. You don't have to worry – It does not take much time for the dermal fillers treatment procedure. We assure you that you will get the desired outcomes at NJ Aesthetics using our treatments and services. You can contact our office for more details about dermal fillers treatment and other treatments available at our facility.